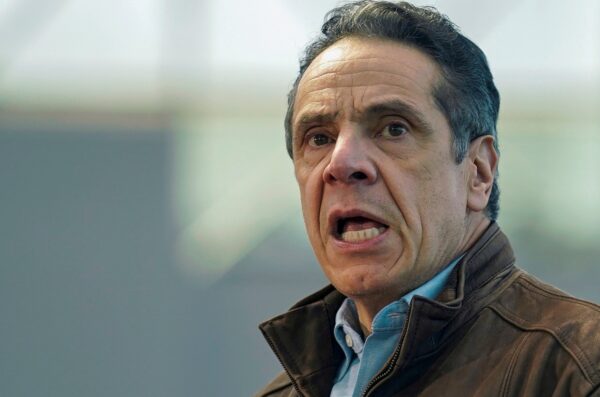 New York City Mayor Bill de Blasio on Wednesday said he is concerned that "political considerations" may be coming into play in Gov. Andrew Cuomo's administration's calculation of state COVID-19 data.
"The state of New York has their own methodology [in calculating CCP virus statistics], and we don't always agree that it's the most rigorous methodology," de Blasio told reporters during a City Hall news conference.
"Sometimes I am concerned that it might be a more subjective methodology, or there might be political considerations in the data," the mayor said. "We want the data to tell us the whole truth. We want to be led by the data and science."
Cuomo's office didn't immediately respond to a request for comment by The Epoch Times.
According to data from the Centers for Disease Control and Prevention (CDC), for the week ending March 21 the New York City metropolitan area had the second highest COVID-19 case rate in the United States, at nearly 260.6 cases per 100,000 people.
That's as cases of COVID-19, the disease caused by the CCP (Chinese Communist Party) virus continue to drop nationwide since the winter peak, and as vaccines continue to be rolled out across the country. Three COVID-19 vaccines have been approved for use in the United States so far: Pfizer/BioNTech, Moderna, and Johnson & Johnson.
Cases in New York City have reached a plateau, and currently are not dropping, Dr. David D. Ho, director of the Aaron Diamond AIDS Research Center at Columbia University, told ABC News.
Further, approximately 18 percent of intensive care unit beds in the state are currently occupied by COVID-19 patients.
The mayor asserted that data from the city's Department of Health "is the most accurate read of what's happening in New York City."
"We're going to stick by it, because if we have the facts, we can protect our people, but we're not going to depend on anyone else to understand the facts of New York City. We'll do that for ourselves," de Blasio said.
"I would say I believe our numbers are more accurate and more consistent, and I know our numbers are based on objective science and I can't say that about the state," the mayor added when asked whether he believes the governor or the health department are "cooking the numbers."
De Blasio's comments come weeks after he joined a growing chorus of calls for Cuomo to resign after sexual misconduct accusations were made against him, and over his administration's handling of the COVID-19 pandemic.
Last week, he accused the governor of being "in the way" of saving lives by defying calls to resign.
At least eight women, including current and former aides, have come forward with allegations of sexual harassment against Cuomo. Cuomo, 63, has repeatedly denied all allegations, and has said he won't resign.
Cuomo has also been under fire for withholding COVID-19 death data from state lawmakers and the public.
In January, New York Attorney General Letitia James, a Democrat, published a report that found that the state under-counted nursing home deaths by as much as 50 percent, while the New York Post later reported that one of Cuomo's aides, Melissa DeRosa, admitted to lawmakers in a private setting that the administration hid nursing home data last summer due to a federal probe.
"I think he should resign so we can move forward in this state, but I'm not expecting him to do that today. So, the next thing he should do is resume normal democracy, restore democracy in the state of New York, restore local control so we can move forward," de Blasio reiterated Wednesday.
"I am concerned that some of the decisions he's made lately, I think, are more and more about politics than about the health of our people," he added. "Well, the way to resolve that is to restore local control."