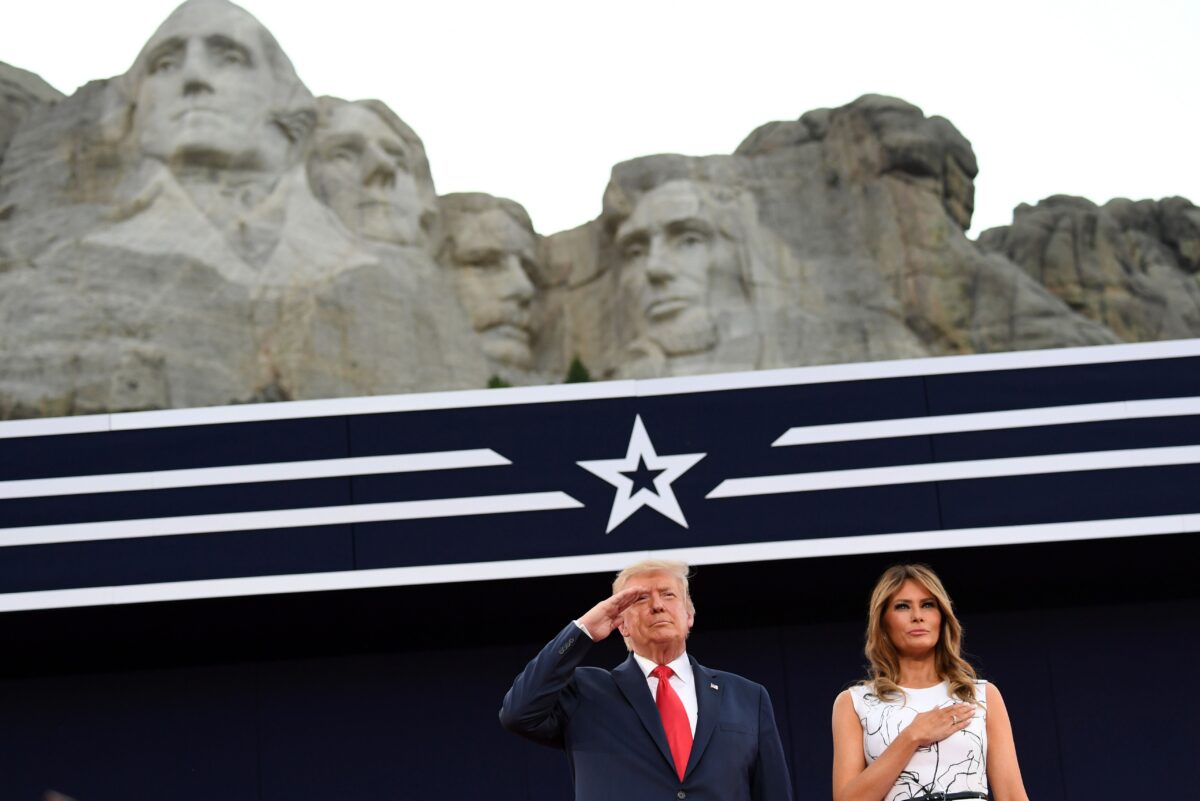 President Joe Biden's administration has rejected an attempt to hold fireworks at Mount Rushmore National Memorial in July to celebrate Independence Day.
Herbert Frost, a regional director for the National Park Service, cited the COVID-19 pandemic in making his decision.
"As the nation continues to respond to the ongoing COVID-19 pandemic, planning an event of this size and magnitude that draws people from across the country raises very serious concerns about the ability to adhere to Center for Disease Control guidance which currently recommends that large gatherings be avoided, particularly those in which physical social distancing cannot be maintained between people who live in different households," Frost told South Dakota Tourism Secretary Jim Hagen in a March 11 letter obtained by The Epoch Times.
"With an event this size it would be difficult, if not impossible, to comply with social distancing protocols if they continue to be in place in early July. Also, as we saw last year, most participants were not wearing face coverings, which are now required in all national parks where physical distancing cannot be maintained."
The service is still evaluating the health impact of the 2020 fireworks event, which saw then-President Donald Trump join, though state officials have said the event didn't lead to a spike in CCP virus cases.
"In addition, the park's many tribal partners expressly oppose fireworks at the Memorial," Frost said. "These factors, compiled with the COVID-19 pandemic, do not allow a safe and responsible fireworks display to be held at this site."
The decision stoked pushback from South Dakota officials.
"Let's be clear, this decision is political, not evidence-based. President Biden just said himself that Americans can safely gather by July 4—what's changed in a day? Last year millions watched the celebration in awe, and it's a shame the administration is denying Americans that opportunity this year," Rep. Dusty Johnson (R-S.D.) and Sens. John Thune (R-S.D.) and Mike Rounds (R-S.D.) said in a joint statement.
Biden told America last week in a speech that if people continue adhering to mitigation strategies, "there's a good chance you, your families, and friends will be able to get together in your backyard or in your neighborhood and have a cookout and a barbeque and celebrate Independence Day."
"After this long hard year, that will make this Independence Day something truly special, where we not only mark our independence as a nation, but we begin to mark our independence from this virus," he said.
Ian Fury, communications director for South Dakota Gov. Kristi Noem, told The Epoch Times via email that the governor "is going to do everything in her ability to ensure that we can celebrate America's birthday with fireworks at Mount Rushmore."