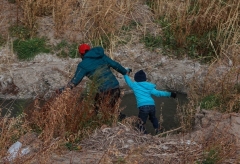 A Guatemalan migrant and his son cross the Rio Grande between El Paso, Texas, and Ciudad Juarez, Mexico on January 26, 2021. (Photo by HERIKA MARTINEZ/AFP via Getty Images)
(CNSNews.com) – "We have a crisis at the border. This is the Biden border crisis," Sen. Tom Cotton (R-Ark.) told "The Ingraham Angle" on Tuesday night.
He spoke after The New York Times reported that the number of unaccompanied children detained at the Southwest border has tripled over the last two weeks to more than 3,250, and that more than 1,360 of them have been detained beyond the 72-hour period when they are required to be moved to shelters.
On Monday, Biden spokeswoman Jen Psaki said the administration needs to "work more on getting the message out and being very clear, now is not the time to come."
"No," Cotton said:
When a politician tells you that there's a messaging or communications problem, what they really mean is they have a reality problem. And the reality problem is that they created a crisis at our southern border by inviting the entire world to show up and claim asylum.

Look, Donald Trump turned away people who were seeking asylum and told them to stay in Mexico and that their claims could be adjudicated in an orderly fashion from Mexico.

Joe Biden's administration is seeking out those illegal aliens that Donald Trump turned away and inviting them to come back to the border, enter — like, we've gone far beyond catch and release. This is recruit and release. They're specifically recruiting illegal aliens who we already turned away once to come back so they can be let go into the country.

All of – almost all of these claims will be rejected. The simple fact is, if you're from Central America, and you're seeking asylum, you do that at the southern border of Mexico. When you get all the way to the southern border of United States, you're no longer seeking asylum, you're seeking a better job and better living conditions.
Although Biden's Homeland Security Secretary Alejandro Mayorkas won't call it a border "crisis," the American people know that it is a crisis, Cotton said:
And this was altogether predictable. In fact, predicted. I said last year, during the campaign, you cannot promise amnesty and open borders and health care for illegal aliens, and not expect a migrant crisis at our border.

And what's happened, not just in the last few weeks, but every month since the election, we've seen increased numbers at our southern border. And they sent a team down this week to ask about whether or not there were enough teachers there or what the accommodations were for kids.

How about the team ask, what are we doing to stop it and to turn these migrants back? And to tell them this is not the way to come to America?
The team sent to the Southwest border this past weekend plans to brief President Biden sometime this week.
Also See:
Buchanan: The Emerging Existential Crisis at the Border